Offering One-Step-Ahead Lamborghini Log Book Services
When car-owners are well acquainted with the fact that it is necessary to get maintenance done from time to time, they demand Lamborghini Electronic Log Book services. We at Exalt'd Automotive never refuse to provide digital as well as paper logbook services for a new car, as we have been maintaining records of various cars for years. We don't claim to be the best in the automotive service industry; it's the customers' reviews and their faith that prove us the leading luxury car service provider.
Somewhere, that's the reason why we're members of VACC, IAME, AAAA, Car Mechanica, Euro Mechanica, and VicRoads. Our goal is to deliver a completely refreshed car with no remaining faults, so we provide thorough inspections, excellent service, and repairs. We believe in our job, hence we offer a guarantee of 12 months and 20,000 km when the car gets serviced. We provide a comprehensive scope of services, including AC, steering and wheels, wiring and battery, suspensions, and so on.
Lamborghini Transmission Repair to Get Improved Performance
Apart from maintaining log books, at Exalt'd Automotive, we also offer ZF Transmission repair services for almost all Lamborghini cars. The manufacturer may guarantee the transmission system's lifetime operation, but the car owner must assume the condition of the parts after extended use. As the lubricant loses its properties, it tends to lose its grip on many of the working parts in the transmission system. That's why while driving you feel problems like friction while starting, gears not shifting easily, the clutch being irresponsible and so on.
Thus, we can assist with Lamborghini dual clutch transmission problems as we're the most experienced automotive experts in the region. Whether the shaft is worn, the pump has cracked, or the turbine has failed, we can easily inspect and repair the entire system. We want you to stay away from problems that can cost you unnecessary money. Thus, we suggest our customers get their vehicles checked up on time. You'll be amazed to see the garage where our experts do reconditioning jobs as it is fully equipped with advanced tools.
When people visit us to consult about Lamborghini DCT transmission repair, we recommend that they get the transmission system serviced every 60,000 km (based on condition) to stay safe from wear and damage. We never step back, whether you have an automatic, semi-automatic, DCT, or continuously variable transmission system. If the engine is not performing as it should be, then you must consult with one of our servicemen as there could be a major issue with the transmission.
Conscious people can address this easily while driving as the car starts telling itself through weird noises and other symptoms. If you are sure that your car needs a Lamborghini transmission rebuild after a serious checkups, you should visit our premises. If you don't have enough time to visit us, then you don't need to be stressed. We can pick up the sick vehicle from your location and drop it off after repair without any extra charges.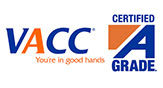 Completing a service to the manufacturer's specifications not only retains your vehicle's resale value, but it also keeps your vehicle's statutory new car warranty in check – meaning you are still covered should anything happen in the time you still have new car warranty.
Exalt'd Automotive is a VACC Accredited workshop, meaning that regardless of the vehicle's age – even if it is still in the New Car Warranty period, this warranty by the vehicle manufacturer will not be voided.
Feel Free to Contact Our Automotive Workforce
Our experienced servicemen are ready to serve you by removing the technical faults in your car and giving you a like-new car as soon as possible. Dial 03 9872 4459 to speak to experts or raise an online enquiry.