Vehicles of the modern day are complex and very sensitive to servicing and repair work. A logbook is the manufacturer's guide to how a vehicle should be serviced and what intervals each lubricant or part should be checked or replaced.
Logbook servicing your vehicle keeps your vehicle running safely and to the manufacturer's specifications. This means that there is the least chance of breaking down and also the highest chance of keeping the vehicle's resale value.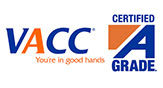 Completing a service to the manufacturer's specifications not only retains your vehicle's resale value, but it also keeps your vehicle's statutory new car warranty in check – meaning you are still covered should anything happen in the time you still have new car warranty.
Exalt'd Automotive is a VACC Accredited workshop, meaning that regardless of the vehicle's age – even if it is still in the New Car Warranty period, this warranty by the vehicle manufacturer will not be voided.
Original Manufacturer parts or equivalent parts on all our Logbook Servicing carried out at Exalt'd are used so there will be no issues or hassles with dealership warranty claims. Our fully trained staff are constantly being upskilled with the latest tools and techniques so we can best serve you and keep your car running smoothly and safely.
Exalt'd Automotive is also a part of the Choice of Repairer scheme, so should you need any further information on why servicing at the dealership when your vehicle is still in new car warranty is not your only option, please feel free to visit their website at www.choiceofrepairer.com.au to see the details.
So why not call us today and book your service in? We'll be more than happy to help you in any way possible and we'll also answer any questions you have.