Most Recommended BMW Log Book Services
We have not fallen behind in offering BMW electronic log book services in any manner. Exalt'd Automotive is a proud member of the following organisations: CarMechanica, EuroMechanica, VACC, IAME, AAAA, and VicRoads. When it comes to providing our clients with the highest quality automobile care services, we provide a 12-month, 20,000-kilometer warranty. With this specific service, you will feel more glad and less tricked, whilst we are confident in our abilities. Our contemporary workshop is equipped with the most recent equipment and instruments. Although logbook service is just as vital as engine repair and cleaning, you may order both services simultaneously or separately, depending on your preference. Not only are our certified technicians professionals in logbook and engine maintenance, but they can also assist with a vehicle's air conditioning, battery, wheels, steering, etc. We are ahead of the curve in preserving records digitally and on paper. Depending on the circumstances, we can help with anything. We prefer a logbook for each workshop visitor as a preventative measure.
BMW Transmission Repair Services for Improved Functionality
In the transmission procedure, the clutch is sandwiched between the pressure plate and flywheel. These components connect to the engine. This transmits power from the engine to the wheels within a certain number of revolutions per minute. Thus, a bad transmission somewhere helps to put attention towards engine condition. If you're looking for ZF transmission repair, then you've come to the right place as we've got experienced mechanics in our team. The highly-qualified engineers can recognise the exact issue with the system and remove whatever deformation they find. Since we have a grand workshop equipped with advanced tools and equipment, it makes our technicians stronger and more capable of handling all BMW dual clutch transmission problems. We work to provide you with a completely healthy machine that you can enjoy driving on Australian highways. Apart from this, if you find any serious fault in the engine, you don't need to look further, as our self-motivated workers are adequately talented to restore it to functional condition.
When lubricant loses its control over machinery, it can result in sudden failure of the entire transmission system, such as gearbox damage, broken springs in the system, clutch breakout, and so on. You should be aware of this risk and get BMW DCT transmission repair before it's too late. When it comes to a preventive approach, we typically suggest our regular customers get regular check-ups from our premises. We offer BMW transmission rebuild services for all types of transmission technologies, whether they are automatic, semi-automatic, manual, and so on. We try to bring the condition back where your car gives you the exact same power and functionality it used to have when it was new. One doesn't need to worry if one is not finding time to bring its vehicle to Exalt'd Automotive workshop. We can help with our special pick-up and drop-off service. Our exceptional services are appreciated by industry experts, so you can count on our expertise and professionalism. We never make our customers wait long; instead, we deliver their automobiles ahead of schedule.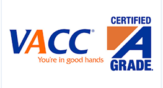 Completing a service to the manufacturer's specifications not only retains your vehicle's resale value, but it also keeps your vehicle's statutory new car warranty in check – meaning you are still covered should anything happen in the time you still have new car warranty.
Exalt'd Automotive is a VACC Accredited workshop, meaning that regardless of the vehicle's age – even if it is still in the New Car Warranty period, this warranty by the vehicle manufacturer will not be voided.
Learn More About Our Car Service Facilities
Up-to-the-mark services of Exalt'd Automotive are available with ease, you can call on 03 9872 4459 or request online booking. If you've any question or queries regarding our logbook or transmission services, you can raise an online enquiry for detailed conversation.