Smart Mitsubishi Log Book Services for Smart Aussies
Exalt'd Automotive is the only address where you can get Mitsubishi Electronic Log Book Services. If you consider preventive maintenance to stay away from unwanted expenses, you should definitely grab our log book service. Considering digital or paper log-book facilities are a matter of choice, you can choose as per your preference. We've been working in the car service record-maintaining industry for years. When you hire our log book maintaining services, you can feel free from car servicing maintenance concerns as we remind you when the standard time comes.
You get a 12-month and 20,000 km guarantee along with the serviced car delivery so that you can feel satisfied. When you choose us for your car treatment, your Mitsubishi gets a chance to visit our advanced workshop with the latest diagnostic tools. We don't limit our specialisation to the engine and transmission, you can consult our experts for other important parts too, such as the battery, suspension, air conditioner, steering, and so on.
Consult with Mitsubishi Transmission Repair Experts in Depth
When you get feelings of friction while driving, then these are not good signs for your vehicle. It may need ZF transmission repair. According to the experts at Exalt'd Automotive, the lifespan of a ZF transmission is approximately three hundred thousand miles if maintained properly, but if not, it can be reduced to only a hundred thousand miles. They recommend changing the lubricant every 30,000 km to enhance the transmission system's durability and performance.
A complete breakdown can be avoided if the car owner addresses the deteriorating condition of the transmission at the very beginning. Anyone can identify it by recognising some major clutch and gearbox symptoms such as strange sensations, clutch disengagement, and gear jamming while in use. You can feel the lacking of the lubricant in the beneath system and increased noise of the parts. If you do not pay attention to it in time, then it can become a huge extra burden for you.
If you're stressed due to Mitsubishi dual clutch transmission problems, our expert engineers can help you beat stress. Whether you have a Pajero, an Outlander, an Eclipse, or any other old model, we can help you with all models. You don't need to look further for Mitsubishi DCT transmission repair services as our well-equipped garage and qualified mechanics are always ready to welcome you, even in the worst conditions.
The engineers at Exalt'd Automotive inspect the transmission system in depth and mark repairable parts. They do their best during the rebuilding procedure, including refining existing parts and installing new ones as per requirement. All we try to do is to provide the power and functionality to your Mitsubishi vehicle that you feel is missing.
We never deny any request pertaining to Mitsubishi transmission rebuild services. We never back down once we promise to bring back the original condition, whether it is fully or semi-automatic, and other technologies such as constantly varying and DCT. We're committed to providing the best quality services so that you can enjoy smooth driving again on Australian roads.
We test the vehicle repeatedly during the rebuilding procedure to deliver a completely refined machine. You can also visit us if you're looking to get a roadworthy certificate for your car, as we're a licensed car service station. All of our customers get the benefit of free car cleaning when they bring their cars for service and repair. Furthermore, they take full advantage of our free pickup and drop-off service.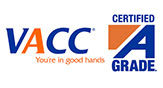 Completing a service to the manufacturer's specifications not only retains your vehicle's resale value, but it also keeps your vehicle's statutory new car warranty in check – meaning you are still covered should anything happen in the time you still have new car warranty.
Exalt'd Automotive is a VACC Accredited workshop, meaning that regardless of the vehicle's age – even if it is still in the New Car Warranty period, this warranty by the vehicle manufacturer will not be voided.
Reverse Your Car from Worst to Best, Visit Us Today
Bring your Mitsubishi to our certified car service station; we'll treat it as required. Dial 03 9872 4459 to speak one of our specialists or raise an online enquiry to tell your concern in detail. We'll get back to you as soon as possible.