Ask Experts for Subaru Log Book Service
Our Subaru Electronic Log Book Services will assist you if you overlook getting your car serviced on time or are unable to pay attention due to a heavy workload. For many years, Exalt'd Automotive has kept track of car engine servicing and maintenance data. We provide high-quality log book services at affordable prices, whether you need them on paper or on a computer. We preserve digital records of all automobiles serviced at our station as a specialist car service provider, and we offer to grab the facility for each and every customer.
We never want our clients to compromise on car maintenance and end up losing a lot of money. We are so confident in our great servicing and repairs that we provide a 12-month, 20,000-kilometer service guarantee. When you bring your malfunctioned car to our well-equipped workshop, our specialists can restore it to its original state.
Oustanding Subaru Transmission Repair and Rebuild Services
When it comes to aiding with ZF Transmission repair, we have a team of experts on site. If you don't pay attention to the transmission system for a prolonged period, maximum it can go for up to a hundred thousand kilometres. But if you pay attention and obtain the appropriate servicing procedures every 30,000 miles when it starts displaying signs of wear; you may expand the limit up to three times. Apart from log book and engine reconditioning, Exalt'd Automotive can also inspect and repair other critical components such as the air conditioner, electrical, battery, wheels, steering, suspension, clutch, gear, brake, and whatever else is needed.
We are valuable members of VACC, IAME, AAAA, Car Mechanica, Euro Mechanica, and Vic Roads due to the consequences of our hard work and devotion. Since our mechanics are experienced in the auto repair sector, they can tackle Subaru dual clutch transmission problems. According to specialist automotive experts, luxury cars should be thoroughly maintained and tested at regular intervals. As per the manufacturers, any automatic or manual car's gearbox system requires no maintenance at all.
We simply deny this assertion, as every critical component of all running devices needs periodic maintenance to ensure long-term functionality. The lubricant will surely lose its qualities and control over the linked parts if automobile owners do not pay close attention to the gearbox and clutch.
Whenever it comes to Subaru DCT transmission repair, whatever model you own, you can approach our workshop to have the dual clutch system back in working order. Spares and supplementary parts lose their grip and fit if not properly cared about. When you visit us for a Subaru transmission rebuild, we do a thorough check to identify any major and small concerns. The expert workers do their best to perform the necessary adjustments, such as system upgrades, component refinishing, and replacements.
We strongly encourage all Subaru automobile owners to come to our garage as quickly as possible if they notice strange responses, or indications, such as friction, clutch system failure, gear tightness, and so on. If you seem unable to bring their Subaru, you may enlist our assistance, as we offer free pickup and drop-off. We service all transmission technologies, including semi-automatic, continuously variable, and DCT, whether you have a fully automatic automobile or a manual transmission technology-based car.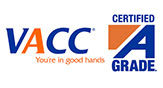 Completing a service to the manufacturer's specifications not only retains your vehicle's resale value, but it also keeps your vehicle's statutory new car warranty in check – meaning you are still covered should anything happen in the time you still have new car warranty.
Exalt'd Automotive is a VACC Accredited workshop, meaning that regardless of the vehicle's age – even if it is still in the New Car Warranty period, this warranty by the vehicle manufacturer will not be voided.
Our Trained Workers feel Happy to Help, Contact Now!
We've got a team of car service experts to serve you to the best. Call 03 9872 4459 and speak to one of our support specialists if want to book an appointment. You may also request for assistance by submitting an online enquiry.