Jaguar Logbook Services that Covers A Lot
No one can beat our Jaguar electronic logbook services as we're one of the leading logbook businesses in the car service industry. We at Exalt'd Automotive are offering a complete logbook for any Jaguar car model, which generally not only includes general service but also special or advanced services such as engine or other parts. Our clients are surprised when we give those 12 months and a 20,000 KM guarantee on each service. Our fully modern and fully equipped workshop is a great place to check and treat your Jaguar along with maintaining service records.
Whether you need a paper-based service book or an online service logbook, we can assist you with any of them. Apart from noting down the typical service and repair, you can ask our logbook professionals for wheels, steering, wiring, battery, bushes, pistons, and suspension related service entries in the logbook. We have become proud members of VACC, IAME, AAAA, CarMechanica, EuroMechanica, and VicRoads due to our dedication and client satisfaction rate.
An Advanced Garage for Jaguar Engine Reconditioning
If you're looking for a reliable Jaguar engine rebuild service station, you can trust Exalt'd Automotive. We've got a trusted team of highly-skilled mechanics who can check the current condition of the engine and find out the root causes of the main issues. We own a master station where we open the engine and refit it after reconditioning. Anyone who faces troubles in the form of instant engine heating, unknown voices from piston and bearings, hard starting, smoke while starting, and many others, can consult with our professionals for satisfactory consultation. They deeply check the internal condition of the engine and suggest the best repair methods with an estimate. Jaguar vehicles have the most complex engines, but they are nothing compared to our experts.
We also provide a free car cleaning service when your car comes to our garage for rebuilding the engine. We don't compromise on professionalism and always try to deliver you great services at the most competitive price. There is no denying that you get a new avatar of your car when it reaches you from our garage. Car owners can be stunned by feeling the smoothness and creamy driving experience after service.
Best-Rated Jaguar Transmission Repair Services
Furthermore, we also don't deny when it comes to refining the transmission part of a luxury vehicle. We're not an ordinary Jaguar transmission rebuild service provider, as there is hardly anyone who can match our expertise and dedication. We do not accept any laxity in this work. Instead, we consider paying maximum attention so that customers get great output within a short time period. If you find it difficult to bring your car to our premises, we offer a free pick-up and drop-off facility. Our transmission consists of the gearbox, clutch, and driving shafts, so if you're experiencing problems in these parts, our reputable mechanics can assist you with ease.
The experts at Exalt'd Automotive can help you with automatic, semi-automatic, continuously variable, and dual clutch transmissions, where we strive to deliver you the disappeared power and functionality of your car. Our dedicated mechanics recommend a transmission check up before completing 60,000 km. One should keep calm and contact our experienced specialist.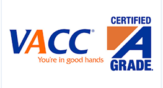 Completing a service to the manufacturer's specifications not only retains your vehicle's resale value, but it also keeps your vehicle's statutory new car warranty in check – meaning you are still covered should anything happen in the time you still have new car warranty.
Exalt'd Automotive is a VACC Accredited workshop, meaning that regardless of the vehicle's age – even if it is still in the New Car Warranty period, this warranty by the vehicle manufacturer will not be voided.
Get in Touch with Our Car Service Experts
Call us on 03 9872 4459 if you want to discuss your concern through mobile, or send us an online enquiry for thorough consultation. Exalt'd Automotive is a customer-centric firm, we always try to provide an immediate response.