Australia's Finest Toyota Log book services
Obviously, apart from the stress of your professional life, you wouldn't want to take the extra burden of servicing your Toyota car. So we're maintaining records and sending reminders to the car-owners when they are registered with us. At Exalt'd Automotive, we're handling records about servicing engines as well as other important parts. You can avail either our Toyota Electronic Log book services or paper log book services as per your choice and requirements. There's barely anyone who can challenge our excellent servicing and repairing work. Our skilled engineers suggest car-owners adopt a preventive approach to stay away from unnecessary damage and expensive repairs.
Car-lovers who get serviced their cars from our premises get delivered a shining and cleaned car at no additional cost. We never hesitate to provide a 12-month and 20,000 km guarantee since we trust the job we do. That's not the only, we also provide repairing and maintenance services for all crucial parts of Toyota vehicles, be it steering, wheels, air conditioner, Electricals, batteries, suspensions, and more.
Consult Our Motor Experts for Toyota transmission repair
Many car-owners visit us to get ZF Transmission repair for their Toyota vehicles and they never get disappointed here. Gearbox, clutch, prop shaft, final drive shafts, and combined parts make up the transmission whose lifespan is about a hundred thousand miles. The user can expand the lifespan up to at least 3 times with proper care and maintenance. Our experts suggest replacing the fluid after thirty thousand miles (for automatic) so that the performance of the vehicle remains as it is. You should bring your car to our garage if you feel symptoms of transmission error while driving such as clutch disengaging, gears becoming jammed, weird noises of collision or friction, etc.
Our workshop is equipped with advanced tools where we can aggressively remove Toyota dual clutch transmission problems. Our expert engineers can revitalise the components like pumps, turbines, planetary gears, shafts, etc. with their modern tools and mechanical experience. We're well-prepared to check in-depth and remove all errors no matter what Toyota model you have. Since we deliver unbelievable outcomes so we're proud members of VACC, IAME, AAAA, CarMechanica, EuroMechanica, and VicRoads. Our qualified mechanics are fully familiar with the common and serious transmission issues whether it is related to the gearbox or clutch system; they can retain the working condition at the earliest.
When the car runs for a long time without proper maintenance, the amount of lubricant decreases and it gradually weakens its grip. The components start losing their fitting and control, and the car's fitness goes down. The time you realise that your car needs Toyota DCT transmission repair, you can come to us without looking further. Our team of qualified mechanics can handle all kinds of dual clutch problems and is able to refurbish the parts if they still have the potential. Whether you have an automatic vehicle, semi-automatic, continuously shifting, or fully manual, we can repair all transmission systems and improve power, smooth functionality, and restore lost fitness.
Thus, you don't have to be worried if you require a Toyota transmission rebuild service. At Exalt'd Automotive, you get not only great assistance but also tips to keep your vehicle like-new. If you need a roadworthy certificate to sell your old vehicle, then also we can help you with that. As we're a licensed and registered car-care business, we're authorised to provide a concerned certificate.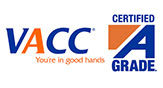 Completing a service to the manufacturer's specifications not only retains your vehicle's resale value, but it also keeps your vehicle's statutory new car warranty in check – meaning you are still covered should anything happen in the time you still have new car warranty.
Exalt'd Automotive is a VACC Accredited workshop, meaning that regardless of the vehicle's age – even if it is still in the New Car Warranty period, this warranty by the vehicle manufacturer will not be voided.
Contact Our Car-care Executives to Avail our Services
People who are not able to drive their Toyota vehicles to us are getting the benefits of our free-of-cost pickup and drop-off service. You too should not be left behind and avail of our services to get an old or worn-out luxury car revived. Call us on 03 9872 4459 or submit an online inquiry.